Posted on | October 30, 2013 | No Comments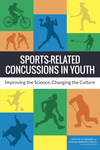 A new IOM report released today flashes a yellow caution light on contact youth sports. The report states in part:
"Studies of the shorter-term effects of repetitive head impacts and multiple concussions have had mixed results; some studies show that these injuries result in a decrease in cognitive function — such as memory loss — and changes in brain physiology while others do not. The role that multiple concussions and repetitive head impacts play in long-term health also is not fully understood. For example, it remains unclear whether repetitive head impacts and multiple concussions sustained in youth lead to long-term neurodegenerative diseases, such as chronic traumatic encephalopathy – commonly known as CTE — and Alzheimer's disease."
Comments
"Grove Atlantic/Spring,2019"

Latest Tweets
Ralph Snyderman
Prospective Health Blog
BIOGRAPHY
Bill Crounse
Health Blog
BIOGRAPHY
Meredith Magee Donnelly
Homegrown Friends
BIOGRAPHY
Eric Dishman
NIH Precision Medicine
BIOGRAPHY
Barbara Ficarra
Health in 30
BIOGRAPHY
William L. (Larry) Minnix, Jr.


Larry's Letters


BIOGRAPHY
Judith A. Salerno, MD, MS
New York Academy of Medicine
BIOGRAPHY

Paul S. Auerbach, MD
Medicine For The Outdoors
BIOGRAPHY

Eric Dishman
Precision Medicine, Euthanasia, Abortion, Communism, Trillions of Dollars, Losing Freedom, and Town Hall Mobs BIOGRAPHY
Mark J. Lema, MD
Post-Election Healthcare Reform
BIOGRAPHY
Michael Millenson
Yearning for Universal Coverage Is Not Universal
BIOGRAPHY
Lewis Miller
Is America's
Health Care
System Failing?
BIOGRAPHY
Rebecca Scritchfield
Probiotics: Hope or Hype?
BIOGRAPHY
Search Health Commentary
Recent Posts