Posted on | December 28, 2020 | Comments Off on Lundberg's Words: "System-shaking, even convulsing."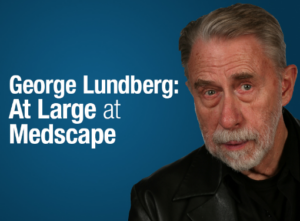 Mike Magee
Last week, Medscape's editor-at-large, George Lundberg, wrote, "In 2017, I published a Medscape column that asked, "How many books will it take?" listing several titles that were intended to provoke repairs or rebuilds. Still nothing happened. Then came COVID, adding massive insult to injury of our already overpriced, overworked, bloated, inefficient, ineffective megalith American procedure-driven medicine."
Is it possible, as Lundberg suggests, that America has reached a tipping point on health reform?
Exactly two years ago, in the middle of Trump's caging of immigrant infants and children, the Washington Post ran the headline, "Our agents did everything they could." The article captured the performance of Kevin McAleenan, head of the U.S. Customs and Border Protection defending his agencies oversight of the death of a second migrant child in the week after Christmas. His exact words: "Our agents did everything they could as soon as these children manifested symptoms of illness to save their lives."
As wicked and depressing as this performance, these were not isolated actions or even outliers. The Covid spotlight has revealed our weaknesses – especially for the most vulnerable. And the knife cuts deep as an indictment of the U.S. Health Care system at large.
As 2020 draws to an end, Lundberg suggests that we as a nation must finally confront the lie that "we did all that we could." As yet, we have not.
Our problems are long standing. When I set out to write the 70 year history of the rise of the Medical-Industrial Complex in America, the glaring absence of fundamental national health planning appeared and reappeared year after year. No one across those many years asked the fundamental question, "How do we make America and all Americans healthy?"
In his review of my book, Code Blue, Lundberg writes, "…in order to redesign a system to achieve different results, it would be helpful to understand how the system became the way it is."
In the reading, you can sense that Dr. Lundberg ultimately found what he was looking for, and admires what he labels  "the Herculean task of explaining all this intertwining stuff so that readers can understand how we got here… What Magee does, perhaps better than anyone else in a single location, is name the people, the organizations, the dates, the decisions, the supporters, and the enablers, as well as the victims and the beneficiaries…"
History can go just so far before someone asks, "Where's the beef?" Dr. Lundberg completes his review by asking, "What to do?"
His answer: "Magee provides a succinct but detailed list of basic steps to reform the medical industrial complex. Five actions involve medical education, seven involve clinical research, five involve publications, and six regard marketing. Incremental, to be sure, but in aggregate, system-shaking, even convulsing."
I welcome your reviews of Code Blue in the Comments section HERE.
Wishing You a Hopeful and Safe New Year!
Comments