Posted on | August 8, 2022 | Comments Off on Monday in America – Message on Positive Leadership from Karen Katen.
Mike Magee
With President Biden's positive leadership at home and abroad, our nation this Monday morning in August, appears to be turning the corner.
While clearly not out of the woods yet, we Americans and our form of government has withstood a serious stress test, one led by a rogue leader and a party (unlike the former Watergate crisis) that for some reason decided to follow this false Messiah rather than muster the strength to resist and do their duty.
The damages, including an assault on women rights and their autonomy over their own bodies, will need to be undone. But steps like this weekend's passage of "Inflation Reduction Act" and last week's Kansas 59% vote to say "no" to radical abortion legislation provide more than a glimmer of hope.
The battle between positive and negative leadership is not a new phenomenon, though seldom have we seen it in such sharp relief. I have studied and published on this very topic for over four decades. My 1995 publication, POSITIVE LEADERSHIP, contains 10 cornerstone themes, and 52 personal challenges, which appear to "hold up" in my re-read early this morning.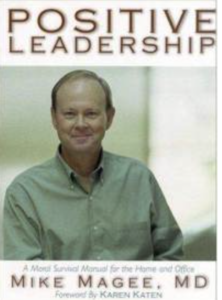 About this book, my friend, Karen Katen, President of U.S. Pharmaceuticals for Pfizer Inc., wrote in 1999: 
"Truly effective leadership requires more than a commitment to performance—it also requires a positive attitude and a healthy, balanced perspective on life. This is the power of Dr. Mike Magee's Positive Leadership. Transcending religions and philosophies, Mike has crafted a work of immutable, undeniable positive truths about life and how ones life ought to be lived.
While warmly told from the author's own experience, the actual voice is eerily familiar. It is nothing less than the reader's own inner voice, all too often lost in the din of our modern times. In other words, Mike's simple lessons are ones we know to be right and true, and have always known to be right and true—we may have just forgotten or misplaced them.
With its compelling clarity, Mike's work is more than just a useful reminder. It serves as a practical solution for those individuals and organizations that are experiencing a disconnect between their actions and their values.
Its timeless themes make Positive Leadership nothing less than a moral survival manual. No home or office should be without it."
In these words, Karen encapsulated the challenge we, as Americans, face now 23 years later. We have encountered and partially confronted as a nation:
Lessons "forgotten or misplaced."
A "disconnect between actions and values."
And "our own inner voice" or "moral survival manual" to guide us back home.
Karen's message for America is hopeful, practical and doable. It has also never been more important than on this Monday in America.
__________________________________________________________________
If you would like to read POSITIVE LEADERSHIP, it is available free online HERE. If you would prefer a hard copy, it is available on Amazon HERE.
Comments